British Diver Finds Unexploded Parachute Mine
BBC Cornwall did report yesterday that a suspected World War II bomb has been discovered less than half a mile Maenporth beach near Falmouth in Cornwall. Falmouth Coastguard was called around 09.30am GMT on 29th November by local diver Mark Milburn of Atlantic Scuba, Penryn. Falmouth Lifeboat is keeping vessels clear of the area until the device will be destroyed later this morning.
With a small group of divers, Mark photographed and recorded the device and once complete, the following morning Mark contacted the Explosive Ordnance Disposal Unit (EODU), the 'Bomb Squad' via the Maritime & Coastguard Agency (MCA). The same day the EODU turned up, after visiting the device, they agreed it was a type GC Parachute Mine.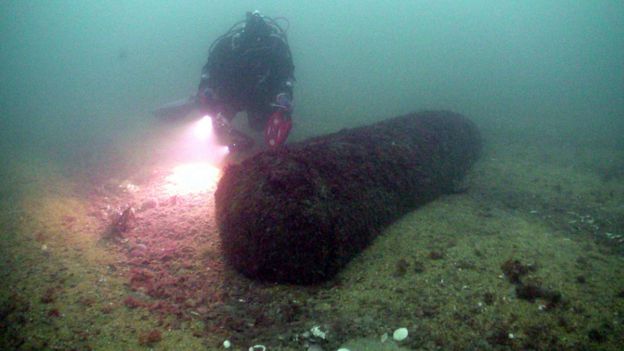 Parachute Mines were extensively used during WWII by the German Luftwaffe. The Luftwaffe began dropping mines in British waters in November 1939, using Heinkel He 115 seaplanes and Heinkel He 111 land–based bombers. After the parachute opened, the mine would descend at around 40MPH. Landing in water, the mine would sink to the bottom and if the depth was deeper than 2.4M, the water pressure and/or the dissolving of a water–soluble plug would deactivate the clockwork time-detonator, activating an anti-shipping detonator.
On his personal social media, Mark commented yesterday "No explosion today but the EODU have confirmed that it is a Type GC parachute mine, containing 697kg of TNT. It will be detonated sometime after 10:00am, possibly around 10:30 tomorrow. Best viewpoint will be from Maenporth Beach."